Welcome!
We offer professional cosmetic therapies in an elegant environment at affordable prices. Our services are based on 40 years of professional experience and customized to the clients'  expectations. Our innovative therapies provide cellular regeneration,  rejuvenation, firming and vitalizing  effect for the skin. Our cosmetic treatments are always based on the concept of providing solution for the individual skin problem as well as full physical and mental regeneration. Regular home skin care is essential to keep your skin in perfect condition,  therefore we are  always ready to help our guests with special care and expertise.
For appointment please call: +36/30 25-748-25
Anikó Kiss/ Master Esthetician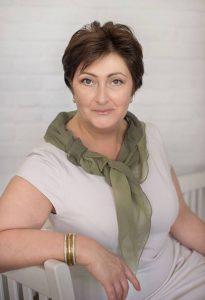 Please take a look at the Beauty Salon's  offer which reveals our exclusive and effective services. The product ranges of internationally renowned cosmetic companies guarantee  outstanding results even from the first treatment. I hope to see you in our salon in the near  future!
Skin care

EUR
HUF
Natúrys Products, Moisturizing Treatment
€ 30
9 000 Ft
Natúrys Products, Active Firming Treatment
€ 50
15 000 Ft
Natúrys Products, Skin Cells Rejuvenating Treatment
€ 60
18 000 Ft
 

NATURYS BIOCOSMETICS

Spectacular, lasting result, deep effect

100% natural origin
the ingredients come from organic farming
they contain no synthetic preservatives and synthetic coloring agents
SLS (Sodium Lauryl Sulphate) free
GMO free, no synthetic additive
solvent-free extracts
dermatologically tested
no experiments were performed on animals
nickel, chrome, cobalt, tested for skin allergy
microbiologically tested
UNI EN ISO 9001: 2008 Quality Certificate
ICEA Quality Certificate

Mesotica smart peptide technology


Peptides have opened a new dimension with innovative cosmetic treatments for skin rejuvenation with Mesotica Serums

Mesotica is the first in the world to create an innovative peptide-based product line that intelligently activates the skin's self-renewing processes with the help of smart peptides.

In the products, the active ingredients provide an anti-aging solution for skin cells and connective tissues at an extra high concentration to serve the health conscious Ladies over 35 years of age.

The overall skin care concept of 3D full skin structure with high-tech active ingredients layer (hydro-lipid layer, epidermis, dermis) rebuilds healthy skin. So, without any drastic interventions, the beautiful, tight, healthy radiant skin becomes available to everyone.

MESOTICA iPEPTID FACELIFTING Programs

During each Mesotica facial treatment, a highly effective combination of 19 different peptide preparations that activate collagen production rejuvenates the skin of the face. Customized, topical treatment of facial-neck-décolleté skin deepening mimic wrinkles, eyebrow hips, dark circles, around the mouth, wrinkles around the nose, horizontal and vertical wrinkles on the forehead.

Duration: 60 minutes

Treatment price:                    €53         15. 900, – HUF

iPEPTID 3D BOOSTER / VISITALLY COMFORTABLE

A skin cell activation program consisting of a combination of 5 peptide compositions. The epidermis is reinforced with skin-filling and moisturizing ceramide gel wrap. High amino acid concentration strengthens skin metabolic processes. Vitamin C-rich oil gel faces the neck and neckline for a relaxing massage with a pleasant feel. Then, with a closing 24-hour balancing gel, we restore the silky softness of the skin. Real high-tech surprise for demanding, mature skin!

Duration: 80 minutes

Treatment price:                     €65           19.500, – HUF

Nature inspiring the soul

In the service of beauty, health and harmony

ADRIENNE FELLER products composed of medicinal plants handpicked from the soil of Pannonia, are premium quality natural cosmetics, serving your beauty and touching your soul. They contain floral extracts, special oils, luxurious essential oils and floral essences.

Our skin regenerating treatments, harmonizing the soul and preserving youthfulness have been developed based on the ADRIENNE FELLER  METHOD.

Up and Up face lift massage

/ Anti-wrinkle, Firming, Cell Renewal Essential Oils, Sage, Muscat Squash, Red and Green Myrtle, Balzamos Suhar /

Duration: 35 minutes

Treatment price:            € 17           5.500, -HUF

RelaxEnne moisturizing treatment

/ Soothing, Moisturizing Agents, Puree Extract, Medical Lavender, Palm Rose, Clementine, Sweet Orange /

Duration: 60 minutes

Treatment price:             € 25          7.900, -HUF

HarmonEnne Cleaner, Harmonizer

/ Sensitive, Rosacea Skin Care, Rosehip, Orange Flower, Sandal, Rosewood, Petit grain Regenerating, Soothing Extracts /

Duration: 90 minutes

Treatment price:              € 38           11,500, -HUF

Clean deep cleansing treatment

/ Treatment of inflamed, seborrheic skin, Medical lavender, Wild lavender, Rosewood, Tea tree, Ylang-ylang, Bay leaf extract that regulate sebaceous gland function, cleansing, disinfecting, bacterial killer, regenerating /

Duration: 90 minutes

Treatment price:               € 38            11,500, -HUF

VitalEnne cell regeneration, cleansing treatment

/ grease and water-deficient skin care, skin firming and moisturizing effect with the fragrant extracts of Rosewood, Myrtle Cineol, Balzamos Suhar, Italian Strawberry Group, Geranium, Ylang-ylang

Duration: 120 minutes

Treatment price:               € 50            15,000, -HUF

StimulEnne treatment for mature skin

/ Skin care for lifeless vitamin deficiency, Mirha, Mass, Lemon, Bitter orange, Sage, Cedar deodora, Laurel leaf extracts /

Duration: 120 minutes

Treatment price:                € 50            15,000, -HUF

Mini lifting intense intake of active ingredient

/ highly regenerating, Paprika Extract, Bodza, Argan Tree Oil, Cejlon Cinnamon, Kardamommag, Geranium, Indian Basil /

Duration: 50 minutes

Treatment price:                 €37           11.000, -HUF

Spring Luxury Ritual

/ Rejuvenating, Refreshing, Smoothing, Raspberry Oil, Coconut Sage, Rosemary, Pomegranate Oil, Sand Seed Oil, Grape Seed Oil, Muscat Rose Oil, Plum Oil, Red Clover Extracts /

Duration: 120 minutes

Treatment price:                  €62           18.500, -HUF

Man's face treatment

PANNONESSENCE, Hungarian Thermal Water, Villány Blue Grape, Argan Tree Oil, Rosemary, Medical Sage, Thyme Essential Oil, Peach and Forget Flower Flower /

Duration: 90 minutes

Treatment price:                     € 37             11.000, – HUF

Luxury facial treatment for men

PANNONESSENCE is the Hungarian thermal water, blackcurrant, Villány blue grape oil, rosemary, peppermint, thyme, nettle, oak extract, immortelle, rosemary essential oil, spruce and walnut flower /

Duration: 120 minutes

Treatment price:                     € 50             15.000, -HUF

Machine cosmetic treatments

Perfectly clear skin! Hydropeeling Therapia 
€ 30
9 000 Ft
 

Technology for all skin types and body surfaces. Guaranteed painless, cleansing, anti-wrinkle, moisturizing treatment.

The modulated elastic waves spray the applied liquid in a humidity-like manner. These micro-blast-induced water jets carry the dirt on the skin surface.

Slight or, if desired, deep peeling is achieved depending on the vibration and vibration settings. When used in a curative manner, the use of acids and chemical agents, crystalline abrasive treatments may be avoided.
The skin is velvety, clean on the first treatment and the pigment spots are significantly faded.

Purpose of treatment:
removal of dead plate
to stimulate skin self-renewing processes without side effects
to promote the perfect absorption of active substances that regenerate cells
Cosmetic application:
anti-wrinkle face-neck decollete
pores cleaning, commedok softening
reducing inflammation
for sun-damaged skin
fading pigment spots
stria treatment supplement

Years to rejuvenate in minutes with Soft-Laser Biostimulation

Intensively regenerates skin cells
collagen fibers revive,
proven to rejuvenate
the result is a fresh, tight skin condition instead of wrinkles

Treatment price:                    €100          30.000,- HUF

Skin cells rejuvenation Oxygen therapy

With the help of the most important life exchanger, the process of the early skin aging can be eliminated by the concentrated oxygen-cure treatment, the cell-regenerating and the circulating.

Helps cellular respiration, increases cellular metabolic processes
It initiates regeneration processes and collagen formation
It improves blood circulation, refreshes the skin, immediately produces a healthy succulent skin
It nourishes deeply, fills cells with valuable drugs from the inside
It helps to eliminate toxins
Improves hydration, smoothes wrinkles

Treatment price:                     € 60           18.000,- HUF

Ultrasonic Facial, Neck, Décolletage Treatment 

Penetrate deep below the surface of the skin
€ 20
6 000 Ft
Skin cells rejuvenation Oxygen therapy
€ 60
18 000 Ft
Laser Therapy, the perfect wrinkle expert
€ 100
30 000 Ft
Ultrasonic cellulite therapy
€ 60
18 000 Ft

Make Up Line- We design the harmony of colours

 Daily Make-up
€ 20
6 000 Ft
Evening and cocktails Make-up
€ 30
9 000 Ft
Wedding Make-up
€ 40
12 000 Ft
Eyelashes with 3D effect
€ 30
9 000 Ft
Permanent eyelash tinting
€ 10
3 000 Ft
Eyebrows colouring
€ 10
3 000 Ft
Eyebrows shaping
€ 10
3 000 Ft
 

Depilation

Lower legs waxing
€ 15
4 500 Ft
Full legs waxing
€ 30
9 000 Ft
Full legs waxing incl. bikini line
€ 40
12 000 Ft
Bikini line waxing
€ 10
3 000 Ft
Full bikini line
€ 30
9 000 Ft

Full arms waximg

€ 10 
3 000 Ft
Back waxing (Man)
€ 30
9 000 Ft